Show Don't Tell: Decolonize your classroom, syllabus, rules, and practices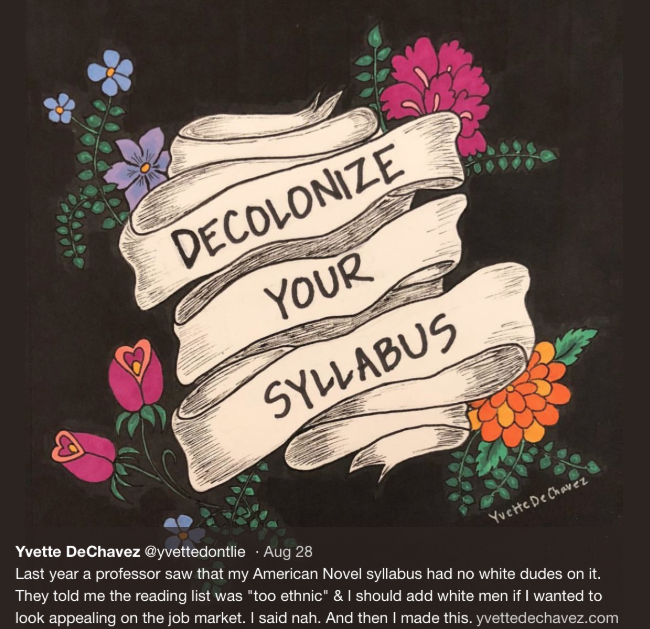 You say you are trying to be socially just? How? Does your classroom, curriculum, rules, and actions match your words? What are you doing to be intentionally socially just? It's not enough to talk a good game. Actions speak louder than words and we must be intentional by focusing on what we want as opposed to what we don't want.
Too often, we tell students what not to do, but what if instead, we helped them deliberately create what they wanted. Let students become active and invested partners in their learning process.
Here are couple of ideas to be intentional about social justice:
Instead of writing rules that tell students what not to do, have them co-create the space that helps them focus on what to do instead of what not to do.
Instead of saying don't do this or don't do that, what if we asked what they wanted to create and helped them backwards plan a roadmap to their treasure?
What if you flipped the script and every piece of literature you taught was by someone from marginalized group and you discussed their background and the importance of diverse contributions?
What if in math and science you:

discussed how different cultures played a role in what we do and know in the field; and
presented "hidden figures" of people of color and other marginalized groups who have made amazing contributions in the field?

What if every image on the walls accurately represented people of color as the majority of people in the world, and women as a little over 50% of the population?
What if you discussed how social movements like Black Lives Matter and the Ferguson uprising are connected to student lives and connect and embody the spirit of past civil rights movements?
What if every speaker you brought in was a speaker from a marginalized population—Black, Brown, Asian, Latinx, Indigenous people of Americas, *dis/abled, speaks English as a second language, one who identifies as LGBTQIA, and etc who are not only experts in the field but who champion social justice as a part of their work.
What if you cited Black women?
If you say you are for social justice, don't tell me, show me.
How will you be intentional about being socially just this school year?
Artwork created by Yvette DeChavez — See more about Yvette here.
*As asserted by Dr. Subini Ancy Annamma in her book, The Pedagogy of Pathologization: Dis/abled Girls of Color in the School-Prison Nexus, the slash in dis/abled (and its forms such as dis/ability) is "included to address the ways dis/ability is not a thing to find and fix, but a process. That is, to be dis/abled is about the ways an environment is constructed and maintained in ways that support or hinder access. Being disabled is not simply a fact that people carry with them, but a fluid process dependent upon social context" (7).
Updated: October 2020