Professional development for culturally relevant pedagogy
Everyone is worth the investment.
We recognize that your genius and liberation are worth the continuous investment. We meet you where you are to help you reach your highest potential.
Wellness is social justice.
We believe that wellness--mind, body, and soul-- is one of the most powerful antidotes to injustice. We believe that wellness is essential in helping people reach their highest and best versions of themselves. For students of color, wellness is the ability to discover their full self and connecting their learning to action. For educators, wellness is the ability to work constructively and fruitfully with students, peers, and parents while maintaining healthy relationships.
Everyone is a genius.
We believe that everyone is a genius. This genius is the thing that moves us consciously and unconsciously making us different from any other being in the multiverse. Tapping into this genius allows us to acquire and apply knowledge in ways beyond our wildest imaginations. It is our unique signature, stamp, brand, and how we carry our true selves. We are geniuses because we exist. Black and Brown students are the change agents for the liberation of and for Black and Brown people and humanity as a whole. 
Be the work.
We recognize that to reach your highest and best self is through "being the work" versus "doing the work." The process of continual growth and improvement in all areas for overall well-being is paramount and is a commitment to the self. "The being" is internalized and as a result "the doing" is a demonstration of "the being." Educators must make learning engaging, meaningful, and experiential -- where learning leads to action.
---
Equity
● Access to the right resources at the right moment
● Targeting resources based on individual students' needs and circumstances
● An intentional effort to acknowledge, address, and dismantle historical and present-day injustices
● A commitment to providing access to financial, instructional, and material resources and high-quality opportunities
Shifting Power in Educational Research and Development. Remake Learning. https//remakelearning.org/shifting-power
Justice
● Tangible action, or required outcome, of equity
● Not only acts of fairness, but practices that produce participatory, anti-oppressive, anti-racist, and healing experiences
● Structuring opportunities that are grounded in worth, dignity, and humanization
● Living in a free state in which acts of harm, damage, and the conditions of inequity and inequality have been both repaired and alleviated
Shifting Power in Educational Research and Development. Remake Learning. https://remakelearning.org/shifting-power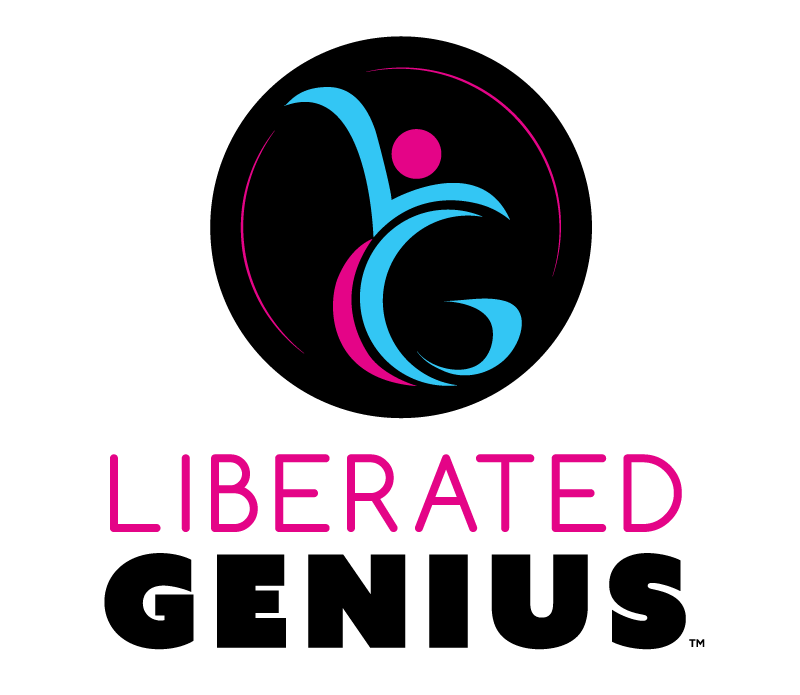 Who We Are
Liberated Genius is a location-independent creation-space for equity, access and wellness. We bring D.O.P.E.* people together to play, dream, and imagine infinite possibilities where underserved groups are seen, and their genius recognized, nurtured, and celebrated. Together we re-imagine and transform the lives of marginalized youth by providing equitable opportunities through learning and action.
*Designers of Opportunities Pushing Excellence
About Dr. April Warren-Grice
Hello, my name is Dr. April Warren-Grice and I inspire D.O.P.E.* leaders to transform oppressive school systems into liberated educational spaces. I do this through speaking, writing, researching, and consulting.
To be honest, I am the biggest kid you will ever meet and I get excited helping and inspiring others to grow from the inside out—mentally, physically, emotionally, culturally, and spiritually. I have inspired growth through education since I can remember, and formally as a high school English teacher and administrator, university assistant professor, educational consultant, researcher, and recently as a yoga and meditation facilitator. With over 20 years of experience as an educator, teaching has never been just a job for me, instead, it is what I am, and I align what I am with everything I do. My passions—educational equity and wellness especially for marginalized communities. The two questions that guide me and my work are:
What would we be like, if we had a diverse network and system of support that invested in us and encouraged us to continuously walk in our purpose and use our genius to reach our highest aspirations?
How much more powerful, influential, and impactful could we be if we were really well—mentally, physically, emotionally, culturally, and spiritually—as we walk in our purpose and use our genius for ourselves and the good of the community?
These questions motivate me daily to Be The Work® I teach about, and to help others walk their desired path. As a result of my guiding questions, my own wellness practices, and the fact that I am naturally a connector, I started Liberated Genius to provide support for all those seeking growth and transformation and to align who they are with what they do. As a lead learner, I recognize that I can't teach what I don't practice. I must Be The Work®, so here I am, just like you, aligning my genius for liberation. Let's do this together and #BeTheWork #LiberatedGenius
My K-12 Professional Development Experience
I specialize in leadership and staff development that helps educators create exciting, engaging, and equitable learning environments. From a strengths-based approach, I help educators identify and address forms of marginalization, such as but not limited to race, class, gender, and their intersections, to increase student achievement and leadership, and create a more inclusive and liberated learning environment for all. Using pop culture, humor, and personal examples, I bring positive energy and passion to each workshop. In each session I challenge all educators to see and believe that each student is a genius, and to recognize that as educators it is our job to help bring out that genius in all of our students, and to know that we can do it!
My Research
My focus in education is always on (1) creating and researching areas related to equity and access, culturally relevant pedagogy and programming, and wellness for underserved students and educators, (2) serving as a bridge of connection for people to move from theory to practice, and (3) connecting academics, practitioners and communities. These three themes drive my teaching and advising philosophy, and current and future research.
My Publications
Warren-Grice, A. (2021). Space to be Whole: A Landscape Analysis of Education-Based Racial Affinity Groups in the U.S. National Equity Project.
Warren-Grice, A. (2017). Advocacy for equity: Extending culturally relevant pedagogy in predominantly White suburban schools.  Teachers College Record. 119, 1-26.
Full publication.
Warren-Grice, A., & Parker, L. (2017). Educational cultural negotiators for students of color: A descriptive study of racial advocacy. Race Ethnicity, and Education. (accepted).
Full publication. 
Lerma, R., Linick, M., Warren-Grice, A., & Parker, L. (2013). The politics of education: Its development and what is needed for the future for advocacy leadership in a post-racial America. In L. C. Tillman & J. Scheurich (Eds.), Handbook of research on educational leadership for equity and diversity (pp. 22-42). New York: Routledge.
Full publication.
Warren-Grice, A. (2009). Narrative. In B. Davis, Biracial and multiracial student experience: A journey to racial literacy (p. 120). Thousand Oaks, CA: Corwin Books.
Warren-Grice, A. (2000). Harriet Jacobs and Octavia Butler: The slave narrative and the slave narrative revisited in the 20th century. The McNair Scholarly Review of Truman State University 6, 121-132.